Mountain Sky Landscaping & Pools has a proven system for creating beautiful landscapes.
There's something about water that speaks to our human senses.
The slow babble of a creek, the crashing sounds of a river, the cool mist that sprays about when you get close to a waterfall — these are all things that bring an innate sense of peace and beauty, even if it's hard to explain why. And that's why we provide water features to Boulder homeowners; even just one elegant water feature can completely transform a landscape. We have a proven process that is sure to leave you satisfied:
DESIGN: The first thing to do is to learn your vision and align it with our own. In our initial consultation, we'll want to know what your dream water feature looks like, and we'll make it clear how we can turn it into a reality. We'll take measurements and prepare 3D models and 2D drawings so you can have a crystal clear picture of what the finished job would look like.

BUILD: Once we're on the same page, we'll move forward with the construction. Whether you want a waterfall, a serene fountain, or a brook running throughout your whole property, we'll bring it to life in a process that's timely, efficient, and safe. We'll maintain communication with you so you can be informed throughout.

ENJOY: After design and construction, there's nothing left to do but enjoy! Your water feature, as long as it's maintained, will provide endless amounts of peace, tranquility, and calmness to your yard. And, of course, if you ever want to expand upon it or build something new, we're just one phone call away.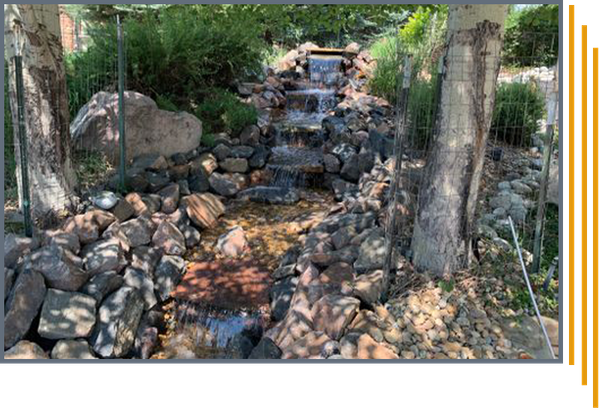 It's all too easy to feel suffocated by the trappings of urban or suburban life. Don't let it get to you — enjoy the peace and calm that you experience from Mother Nature by installing a water feature in your yard. We can create fountains, waterfalls, streams, fountains, you name it.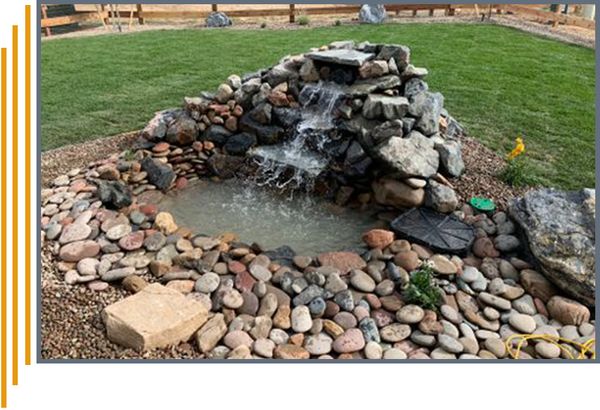 Water features are truly irreplaceable. Not only do they add pristine beauty to your yard, but they also evoke the sensation that one feels when they're out in nature. If you truly want to elevate your Boulder home to the next level, contact us today for high-quality water features.